Frank M. Houck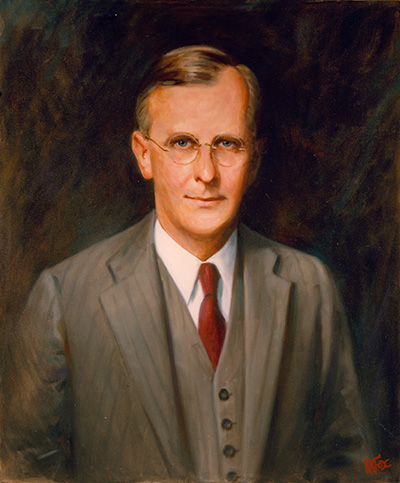 Make a Request
Frank M. Houck
1889-1976
Houck, an assistant director of The Johns Hopkins Hospital, was born in Boiling Springs, Pennsylvania. In 1910, he received his bachelor's degree from Dickinson College, and entered the Johns Hopkins University School of Medicine. Having contracted tuberculosis during his second year, he had to take a leave of absence for treatment. Houck went to a sanatorium at Saranac Lake, New York, and after a year was able to return to Johns Hopkins to complete his medical degree, graduating in 1915.
Houck moved to Colorado following graduation for the curative value of the mountain climate. There, he became house manager for the Cragmor Sanatorium, a facility for tuberculosis patients. He also began purchasing real estate north of Colorado Springs, amassing over 1,000 acres of land containing old coal mines filled with water. He determined a way to use the water to produce income, selling water to the Colorado Springs Country Club, which leased land from him to construct its golf course. He used part of the land to establish a sod farm which also used water from the mines.
In 1927, Houck returned to Johns Hopkins to become assistant director of The Johns Hopkins Hospital. Between 1929 and 1930 he also served as director of the outpatient department. He both worked and lived in the administration building, commuting on weekends back to Boiling Springs. Houck's primary interest was in maintaining the hospital facilities; he was known for carrying tools to fix problems like leaky pipes or for supervising workers. He took a leave of absence in 1930, then remained in the post until 1942, at which time he again left because of illness.
Houck spent the duration of his years between his Colorado Springs ranch and Boiling Springs, where he had restored the farm house built in 1787 by his great-great-grandfather.
A few years before he died, Houck established two small trusts for The Johns Hopkins Hospital, directing that the money be used for building maintenance projects that could not otherwise be funded. Shortly before his death, he supplemented his gift with two more trusts.
In 1985, trustees of The Johns Hopkins Hospital voted to change the name of the Phipps Psychiatric Clinic Building to the Houck Building. In 1999, the name changed back to Phipps but the Houck name remains in the lobby and backyard garden.
"*" indicates required fields