Johns Hopkins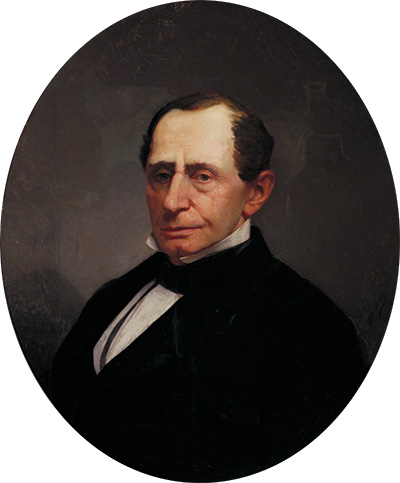 Make a Request
Johns Hopkins
1795-1873
Hopkins, a wealthy merchant and philanthropist, was born on his family's tobacco plantation, Whitehall, in Anne Arundel County, Maryland. The second of eleven children, he was given his maternal great-grandmother's family name, Johns. His parents were members of the Society of Friends (Quakers). When Hopkins was seventeen, his parents, who recognized his business aptitude, sent him to Baltimore to live and work with his uncle Gerard Hopkins in the wholesale grocery business.
While his uncle was serving in the War of 1812, Hopkins managed the business. During this time, he and his cousin Elizabeth fell in love. After seven years working for his uncle, Hopkins asked for his cousin's hand in marriage. Due to the Quaker taboo against marriage of first cousins, his uncle refused to give his permission. Neither he nor his cousin ever married, and they remained devoted to each other.
After leaving his uncle's employ, Hopkins first partnered with Benjamin Moore, a fellow Quaker, but the partnership dissolved because Hopkins preferred to save profits for other ventures instead of reinvesting in the grocery business. He then went into business with three of his brothers and established Hopkins and Brothers Wholesalers in 1819. The firm sold provisions, including a whiskey called Hopkins' Best, throughout the South. When he had accumulated sufficient capital, Hopkins began lending money to others, and before long he moved into banking. In time, Hopkins became the leading financier in Baltimore. He was also a canny investor. His purchase of stock in the fledgling Baltimore and Ohio Railroad (B&O) came to be the base of his great wealth. He became director of the B&O in 1847 and chairman of its finance committee in 1855. He was also president of Merchants' Bank and director of a several other institutions. He twice used his own money to bail the B&O out of debt, in 1857 and 1873, but also lent money to Baltimore City during financial crises.
A lifelong bachelor, Hopkins stipulated in his will that his fortune be used for the benefit of others. After bequests to family and servants, and provisions for his cousin Elizabeth, amounting to about one million dollars, there remained approximately seven million dollars to endow the university and the hospital that bear his name.
In 1867, he selected twelve individuals to serve as trustees of a corporation called The Johns Hopkins University, whose purpose was to promote education in the state of Maryland. Likewise, a board was formed for the incorporation of The Johns Hopkins Hospital. To ensure the linking of the institutions, he named the same people to both boards that established the university and hospital.
Just before his death in 1873, Hopkins wrote a letter to the board of trustees of the hospital. In it he outlined his intent for the medical institutions: "In all your arrangements in relation to this hospital, you will bear constantly in mind that it is my wish and purpose that the institution should ultimately form a part of the medical school of that university for which I have made ample provision by my will."
Additional Portrait(s) of Johns Hopkins
"*" indicates required fields