John Mifflin Hood III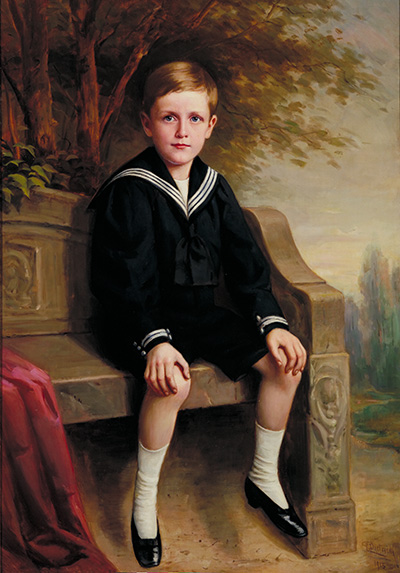 Make a Request
John Mifflin Hood III
1906-1915
Hood, the grandson of a benefactor of The Johns Hopkins Hospital, was born in Baltimore. He was the first son of John Mifflin Hood, Jr., president of Crown Cork and Seal Company, and Ethel Painter Hood. His grandfather, John Mifflin Hood, Sr., was President of the Western Maryland Railway Company and helped finance the rebuilding effort after the 1904 Baltimore fire. In 1911, John Mifflin Hood III unveiled a monument erected by the city in appreciation of his grandfather's contribution.
John Mifflin Hood III was a precocious child who at the age of three could recite long passages from the Bible. In 1915, at the age of nine, he attended a boys camp in the Adirondack Mountains in Essex County, New York. While at the camp, he went missing. His father spent three days searching for him hoping he was lost in the woods. The boy's body was soon discovered; he had drowned.
The devastated family commissioned several monuments in his memory, including the Hood Room in the Harriet Lane Home for Invalid Children at The Johns Hopkins Hospital, two oil portraits at Johns Hopkins, a monument at his grave in Druid Ridge Cemetery in Pikesville, Maryland, and a stained glass window at the Roland Park Presbyterian Church. In addition, his parents named a second son John Mifflin Hood III after their deceased child.
Additional Portrait(s) of John Mifflin Hood III
"*" indicates required fields