Martha Norton Hill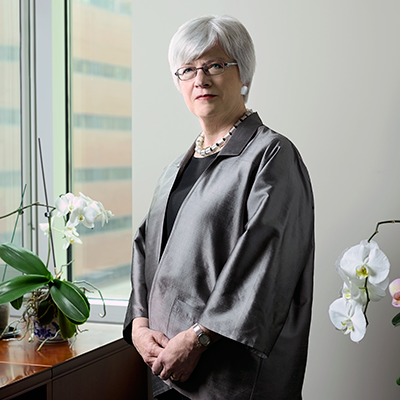 Make a Request
Martha Norton Hill
1943-
Hill, a dean of the Johns Hopkins University School of Nursing, was born in Boston. She received her nursing diploma from The Johns Hopkins Hospital School of Nursing in 1964 and her B.S. in nursing from The Johns Hopkins University in 1966. In 1977, she earned her M.A. in nursing from the University of Pennsylvania. She received her doctorate in behavioral sciences from the Johns Hopkins School of Hygiene and Public Health in 1986 and was a postdoctoral fellow through the Robert Wood Johnson Clinical Nurse Scholars Program at the University of Pennsylvania from 1986 to 1988.
Hill served on the faculty of the University of Pennsylvania and also worked as a nurse specialist in hypertension. In 1980, she came to Johns Hopkins as an assistant professor in the School of Continuing Studies' Division of Nursing. She became an assistant professor at the newly established Johns Hopkins University School of Nursing in 1985 and rose to become director of the Center for Nursing Research and interim director of the doctoral program. Hill was named interim dean of the School of Nursing in 2001 and then served as dean of School of Nursing from 2002 to 2014 before being named dean emerita. Hill also held appointments in the School of Medicine and the Bloomberg School of Public Health.
As an educator, Hill is known for her mentorship of students and junior faculty members; as a researcher, for her investigations in preventing and treating hypertension and its complications, particularly among young, urban African-American men. Her expertise in community-based participatory research focuses on the integration of multi-professional health care to improve treatment and outcomes for vulnerable and underserved populations. She has been an active investigator, mentor, and consultant on numerous National Institutes of Health-funded clinical trials and is recognized for her research projects including Comprehensive HBP Care for Young Urban Black Men, Barriers to HBP Care and Control in Black South Africans, and Research Training in Health Disparities in Underserved Populations.
Hill is a member of the Institute of Medicine and serves on the IOM Council and the Board of Directors of Research! America. From 1997-1998, she served as president of the American Heart Association, the first non-physician to be named to that position. Her writing has appeared in many publications including Nurse Practitioner, Preventive Medicine, Journal of the National Medical Association, and American Journal of Nursing.
"*" indicates required fields