Robert Samuel DeCosta Higgins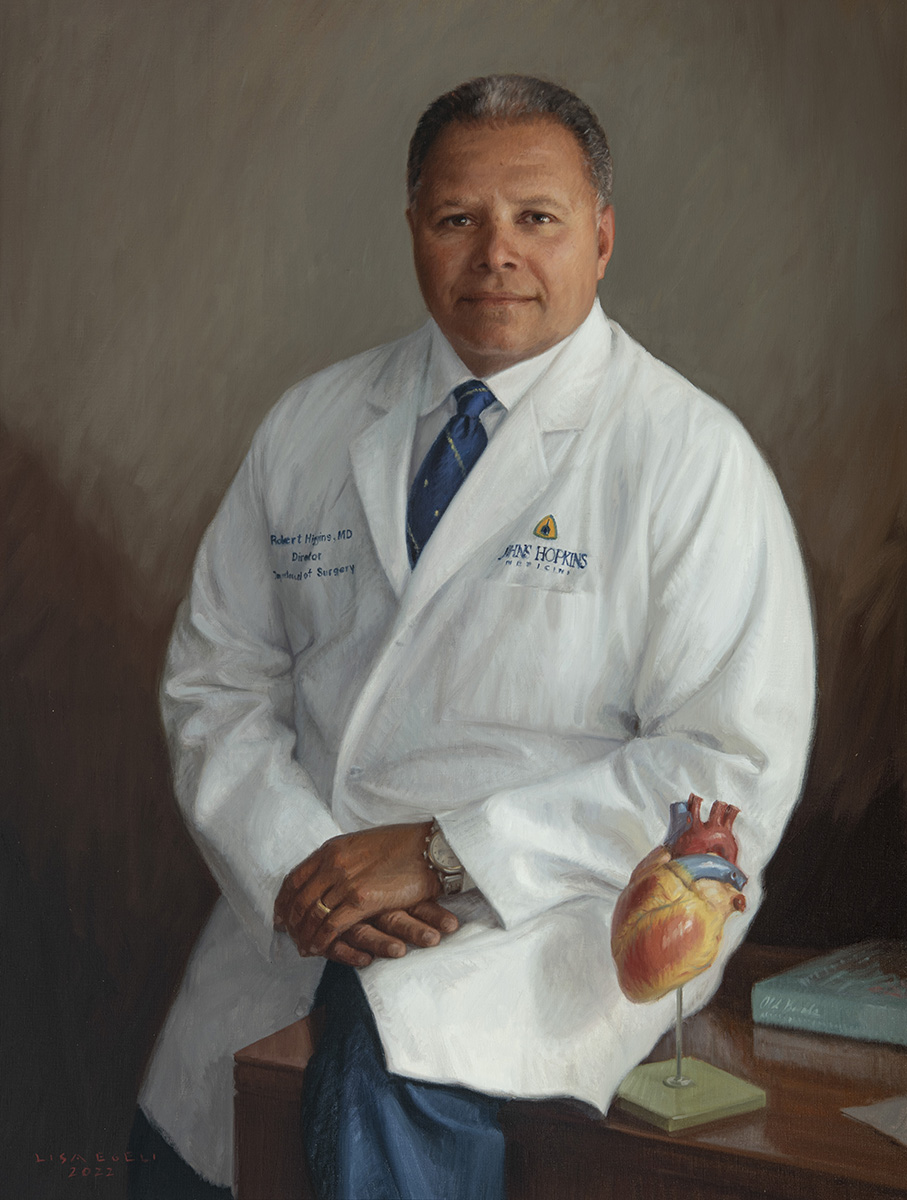 Make a Request
Robert Samuel DeCosta Higgins
1958-
Higgins, formerly William Stewart Halsted Professor of Surgery and director of the department of surgery at Johns Hopkins was born in La Jolla, California. He received his bachelor's degree from Dartmouth College in 1981 and his medical degree from Yale University School of Medicine in 1985. Higgins spent the first phase of postdoctoral training at the University, Health Center of Pittsburgh from 1985 to 1990 where he completed his internship and residency.
In 1990, he returned to Yale as Winchester Scholar in Cardiothoracic Surgery. From 1991 to 1993, Higgins served as a fellow in cardiothoracic surgery at Yale, rising to become chief resident in 1992. He concluded his postgraduate training in 1993 at Cambridge University's Royal Papworth Everard Hospital as senior registrar.
From 1993 to 1999, Higgins served as senior staff surgeon and surgical director of thoracic organ transplantation at Henry Ford Hospital in Detroit while holding a joint appointment as assistant professor of cardiothoracic surgery at Case Western Reserve University in Cleveland. In 1998, he assumed additional positions as senior staff surgeon and director of pediatric cardiac transplantation at Children's Hospital of Michigan while retaining appointments at Henry Ford Hospital and Case Western Reserve University.
In 1999, Higgins accepted an appointment as chair of the division of cardiothoracic surgery at Virginia Commonwealth University's Medical College of Virginia where he also served as director of the residency program in thoracic surgery. While at Virginia Commonwealth University, he earned a master's degree in health services administration.
Rush University Medical Center in Chicago recruited Higgins in 2003 to chair the department of cardiovascular surgery and direct the thoracic surgery residency program. With his ongoing specialization in transplant surgery, he served as president of the United Network for Organ Sharing (UNOS) from 2008 to 2009. Having long played an active role in mentoring black medical students and faculty, Higgins rose to the presidency of the Society of Black Academic Surgeons and held that position from 2008 to 2009.
In 2010, the Wexner Medical Center of Ohio State University appointed Higgins chief of the division of cardiac surgery and director of the comprehensive transplant center. He rose in 2013 to become director of the department of surgery.
Higgins began his appointment as director of the department of surgery at Johns Hopkins University School of Medicine and surgeon-in-chief of The Johns Hopkins Hospital in 2015. Widely recognized for his accomplishments in surgery, he served as president of the Society of Thoracic Surgeons from 2019 to 2020. Moreover, he took steps to foster greater diversity and inclusion in the department of surgery and throughout Johns Hopkins Medicine. While at Johns Hopkins, he also served as senior associate dean for diversity and inclusion from 2020 to 2021.
In December 2021, Higgins assumed the presidency of Brigham and Women's Hospital and the vice presidency of Mass General Brigham, capping an impressive rise in the leadership of academic medicine.
"*" indicates required fields