Robert Hodgson Heptinstall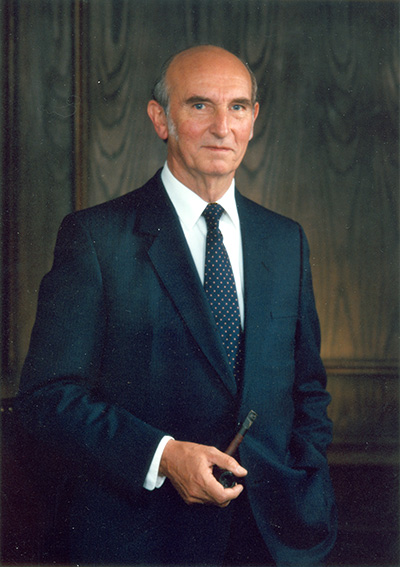 Make a Request
Robert Hodgson Heptinstall
1920-2021
Heptinstall, a pathology director at Johns Hopkins, was born in Keswick, England. His medical studies were completed at King's College in London, Charing Cross Hospital Medical School, and London University. He received an L.R.C.P. and M.R.C.S. in 1943, and a M.B. and B.S. in 1944. After serving six months as house-surgeon at Charing Cross Hospital, he entered the Royal Army Medical Corps in 1944 and served in India, Burma, Siam, and the Dutch East Indies until 1947. After his military service ended, Heptinstall returned to England and began preparing for a career in pathology at St. Mary's Hospital in London where he worked at the Wright-Fleming Institute of Microbiology. He received an M.D. in pathology from Charing Cross Hospital Medical School in December, 1948.
Heptinstall remained affiliated with St. Mary's Hospital Medical School in London where he worked in the Morbid Anatomy Department beginning in 1948. In 1954, he was awarded an Eli Lilly Traveling Fellowship and spent a year at The Johns Hopkins Hospital in the department of pathology. In 1960, he accepted a position as a visiting professor of pathology at the Washington University School of Medicine in St. Louis.
Two years later, Heptinsall was appointed to the faculty of the Johns Hopkins University School of Medicine as an associate professor of pathology. In 1966, Heptinstall was named professor and acting director of the department of pathology. In 1969, he became the Baxley Professor of Pathology and director of the department, as well as pathologist-in-chief at The Johns Hopkins Hospital. He held those posts until his retirement in 1988.
Heptinstall is an authority on kidney disease, atherosclerosis, and hypertension and has published more than 100 papers in these areas. In 1966, he published his textbook, The Pathology of the Kidney. He was also the editor of Laboratory Investigation and served a seven-year stint as associate editor of Nephron. Heptinstall was elected president of the American Society of Nephrology in 1972, and later served as vice president of the International Society of Nephrology.
Heptinstall's awards include the Gold Medal of the Danish Surgical Society and the David M. Hume Memorial Award of the National Kidney Foundation. In 1984, he was elected to the Alpha Omega Alpha Honor Society. In 1999, he was awarded the Jean Hamburger Award by the International Society of Nephrology. In 2011, the Renal Pathology Society renamed its lifetime achievement award the Robert H. Heptinstall Lifetime Achievement Award, and honored Heptinstall as its recipient.
"*" indicates required fields