Louis Virgil Hamman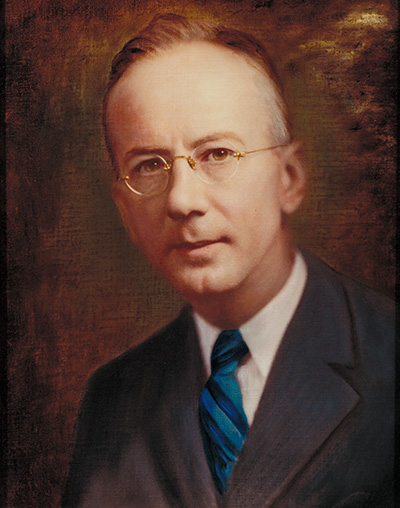 Make a Request
Louis Virgil Hamman
1877-1946
Hamman, a clinician renowned for his diagnostic skills, was born in Baltimore. He earned his B.A. in 1895 from Rock Hill College in Ellicott City, Maryland, and went on to study at the Johns Hopkins University School of Medicine, where he earned his M.D. in 1901. He completed both an internship and a residency at the New York Hospital before returning to Baltimore in 1903 to begin his practice and to join the Johns Hopkins faculty.
Over the next 30 years, Hamman rose through the academic ranks at the School of Medicine from a part-time faculty member to an associate professor of medicine. From June 1918 until February 1919, he acted as chairman of the department of medicine while William S. Thayer performed military service during World War I.
Early in his career, Hamman's writings focused on pulmonary tuberculosis, and his interest in this subject led to his being chosen to help organize and conduct the Phipps Tuberculosis Clinic in The Johns Hopkins Hospital. During this time, he coauthored Tuberculin in Diagnosis and Treatment.
Among Hamman's original contributions to medicine was his study of blood glucose. He outlined the principle of the glucose tolerance test, describing the response of blood sugar to orally administered glucose. Hamman also described spontaneous mediastinal emphysema, which was named Hamman's disease, as well as the diffuse interstitial pulmonary fibrosis, known today as the Hamman-Rich syndrome.
Hamman's standing as one of the preeminent diagnosticians of the country was formally recognized in 1941 by his selection as president of the Association of American Physicians. In 1950, the Louis Hamman Memorial Scholarship was established by friends from the Johns Hopkins Medical and Surgical Association. In 1975, the General Medical Clinic at Johns Hopkins was renamed the Hamman-Baker Medical Clinic.
"*" indicates required fields