William Stewart Halsted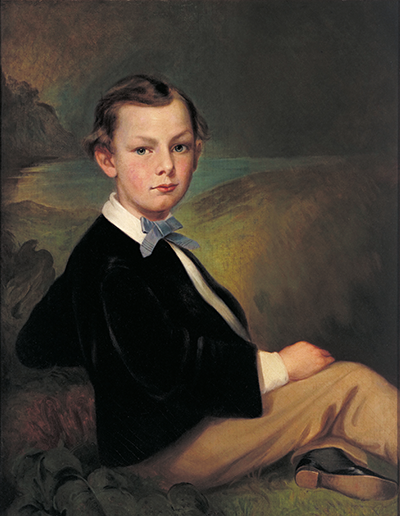 Make a Request
William Stewart Halsted
1852-1922
Halsted, first surgeon-in-chief and professor of surgery at Johns Hopkins, was born in New York City. In 1874, he earned his A.B. from Yale University where he was a mediocre student but an exceptional athlete. He entered Columbia University College of Physicians and Surgeons, receiving his M.D. in 1877. Halsted served as an intern at Bellevue Hospital from 1876 to 1877, as a house physician at New York Hospital from 1877 to 1878, then went to Europe for further study in Vienna, Leipzig, and Würzburg from 1878 to 1880.
Returning to New York City in 1881, he entered private practice and held various positions at six hospitals in the area: Roosevelt Hospital, the College of Physicians and Surgeons, Charity Hospital, Emigrant Hospital, Bellevue Hospital, and Chambers Street Hospital. Halsted gained high repute as a surgeon, diagnostician, and advocate for aseptic techniques and was a popular and charismatic teacher and physician. In 1882, he performed one of the first gallbladder operations in the United States—on his mother, on the kitchen table in her home. Halsted also performed one of the first blood transfusions on his sister after she had given birth, using his own blood.
In 1884, he was the first to describe injection of cocaine into the trunk of a sensory nerve to block pain transmission and the use of localized ischemia to prolong cocaine's anesthetic action. Halsted, his students, and fellow physicians experimented on each other and demonstrated that cocaine could be used as an effective local nerve block. Not knowing its addictive properties, Halsted became dependent on the drug. His addiction to cocaine destroyed his career in New York City. Interventions by his friends and family led to two extended stays for treatment at the Butler Sanatorium in Providence, Rhode Island where he was weaned from dependence on cocaine through use of morphine. Halsted was never able to conquer his subsequent morphine addiction and lived with it for the remainder of his life.
After his discharge from the Butler Sanatorium in 1886, Halsted was invited by William Welch to conduct research in the newly-formed pathological laboratory at Johns Hopkins in an effort to restart his career. Working with Franklin P. Mall, he perfected techniques for intestinal suture and wound healing in dogs. He developed methods which consisted of strict aseptic technique, gentle handling of tissue, use of fine silk suture material, small stitches and low tension on the tissue, and complete closure of wounds whenever possible. These basic methods transformed the practice of surgery, making it safer and more effective.
When The Johns Hopkins Hospital opened in 1889, the original person chosen as surgeon-in-chief resigned without ever coming to Baltimore. Halsted was asked to serve as acting surgeon-in-chief, and was later appointed first surgeon-in-chief. He was named first professor of surgery of the Johns Hopkins University School of Medicine when it opened in 1893.
In 1890, Halsted introduced the use of rubber gloves at Johns Hopkins when his scrub nurse, Caroline Hampton, developed severe dermatitis from immersing her hands in mercuric chloride which was the standard pre-surgery sterilizing practice of the time. Halsted arranged to have the Goodyear Rubber Company make some thin rubber gloves for her use. They were married later that year. In 1896, the use of rubber gloves became the standard in surgery when Dr. Joseph Bloodgood and others began to routinely wear them for aseptic purposes.
Renowned as a surgeon and as a clinical teacher, Halsted combined experimental work in physiology and pathology to innovate surgical techniques for the thyroid and parathyroid glands, blood vessels, breast cancer, and hernia. He was instrumental in launching the subspecialty divisions of orthopaedics, otolaryngology, urology, and roentgenology at Johns Hopkins. One of his greatest legacies is his success in training surgeons and in establishing the first formal surgical residency training program. A significant number of his residents went on to lead surgical departments at other institutions, where they promoted his techniques and set up residency programs modeled on what Halsted created at Johns Hopkins.
Additional Portrait(s) of William Stewart Halsted
"*" indicates required fields