Vincent Lynn Gott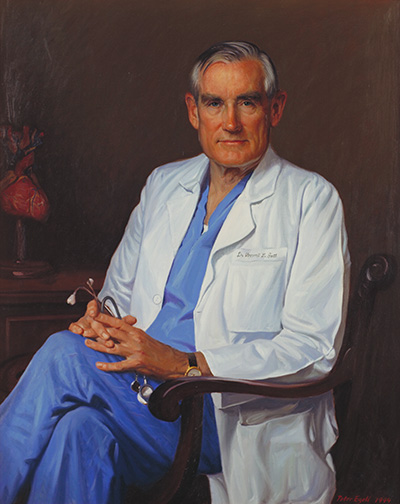 Make a Request
Vincent Lynn Gott
1927 - 2020
Gott, professor emeritus of surgery at Johns Hopkins, was born in Wichita, Kansas. After graduating from high school in 1945, Gott served in the U.S. Navy Radar Service. He earned his A.B. degree from the University of Wichita in 1949 and his M.D. from the Yale University School of Medicine in 1953.
Gott completed his internship and residency in surgery at the University of Minnesota Hospitals. He then became an instructor in surgery at the University of Minnesota Medical School. In 1960, Gott became assistant professor of surgery at the University of Wisconsin Medical School.
In 1965, Gott was named associate professor of surgery at the Johns Hopkins University School of Medicine and cardiac surgeon-in-charge for The Johns Hopkins Hospital. In 1969, with Johns Hopkins surgeon Harvey Bender, Gott performed the first heart transplant at the hospital. A primary researcher in the development of the pacemaker, Gott co-invented the Gott-Daggett Valve and the Gott Shunt. He conducted 150 aortic and root replacements in patients with Marfan Syndrome, and he co-directed the Broccoli Center for Aortic Diseases. A study Gott led in 1986 found that early surgery to repair dangerous weaknesses in one of the heart's major blood vessels could prevent premature death in patients with Marfan.
Gott remained chief cardiac surgeon until 1982, and retired from active cardiac surgery in 1994. In 2008, he was appointed professor emeritus of surgery.
Gott is the author or co-author of more than 300 scientific publications related to cardiac surgery.
Gott earned many honors during his career, including the Hekteon Gold Medal from the American Medical Association in 1957 and the Antoine Marfan Award from the National Marfan Foundation in 1988. In 1992, the University of Minnesota named him surgical alumnus of the year. He is a former president of the Society of Thoracic Surgeons and the American Society for Artificial Internal Organs.
The Vincent L. Gott, M.D. Professorship was dedicated in 2000. In 2005, Gott was selected by the Lillehei Heart Institute for a Lifetime Achievement Award during the 50th Anniversary of Open Heart Surgery by Cross-Circulation at the University of Minnesota; he was one of eleven individuals honored for "seminal contributions to the development of open heart surgery." Gott received the Earl Bakken Scientific Achievement Award from the Society of Thoracic Surgeons in 2006, in recognition of his outstanding contributions to the practice of cardiothoracic surgery.
"*" indicates required fields