Daniel Coit Gilman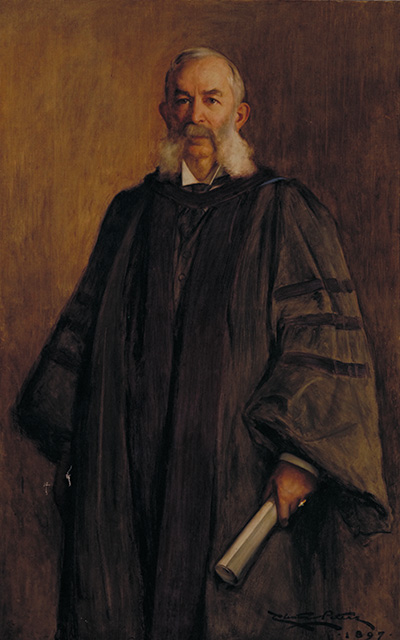 Make a Request
Daniel Coit Gilman
1831-1908
Gilman, the first president of The Johns Hopkins University, was born in Norwich, Connecticut. He received a B.A. from Yale University in 1852. Gilman then spent a year at Harvard pursuing advanced study in geography, and then spent two years as an attaché at the American Embassy in St. Petersburg, Russia. In 1856, Gilman went to Yale as a librarian, and later became professor of physical and political geography, and secretary to the board of the Sheffield Scientific School.
From 1872 to 1875, Gilman served as president of the University of California, where he established a permanent campus and endowment funds, and initiated new programs in science, engineering, philosophy, and languages. He was instrumental in laying the foundation for that institution.
In 1875, the trustees of the newly formed Johns Hopkins University recruited Gilman as its first president, a position he held for twenty-five years. Gilman was instrumental in the establishment of all aspects of the university's educational philosophy, curriculum, and facilities, the hiring of faculty, and the overall administration of the new university.
Gilman was also instrumental in recruiting the faculty for the Johns Hopkins University School of Medicine as well as designing the curriculum and standards of the school of medicine. As The Johns Hopkins Hospital neared completion, the joint committee of The Johns Hopkins University and The Johns Hopkins Hospital asked Gilman to design and implement an administrative organization for the new institution. Gilman served as The Johns Hopkins Hospital's first director for six months in 1889. During that time, he outlined the formal organizational structure of the hospital and hired crucial staff, all in time for the hospital's formal opening in May, 1889.
Gilman retired as president of the university in 1901. Soon after, he was appointed the first president of the Carnegie Institution of Washington, a position from which he retired in 1904. The original academic building on the Homewood campus of The Johns Hopkins University is named Gilman Hall in his honor.
"*" indicates required fields