Jonas Stein Friedenwald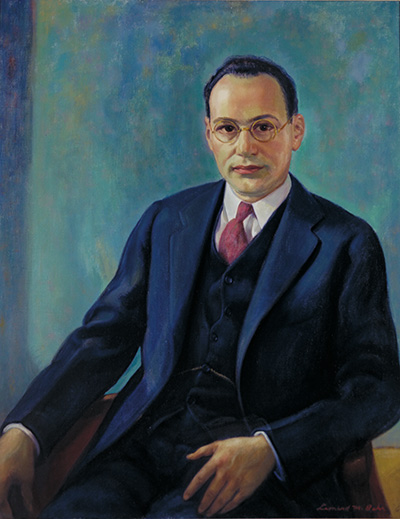 Make a Request
Jonas Stein Friedenwald
1897-1955
Friedenwald, an ophthalmologist at Johns Hopkins, was born in Baltimore and became the third generation in the Friedenwald family line of ophthalmologists. He graduated with distinction from Johns Hopkins University in 1916, finished medical school at the Johns Hopkins University School of Medicine in 1920, and spent a year as an intern at The Johns Hopkins Hospital. Friedenwald next earned a master's degree in ophthalmic pathology at Harvard University and served a year on the staff of the outpatient clinic at the Hospital of the University of Pennsylvania.
In 1923, he returned to Baltimore, where he joined his father's ophthalmology practice and began his career as a faculty member at the Johns Hopkins University School of Medicine, working under William G. MacCallum. Two years later, Friedenwald was appointed director of the pathology laboratory at the Wilmer Eye Institute. From 1931 to 1955, he was an associate professor of ophthalmology. He was also visiting ophthalmologist at The Johns Hopkins Hospital from 1936 to 1947.
Author of nearly 200 scientific papers, Friedenwald became a world authority on diseases of the eye. His research on glaucoma influenced the study of the disease, and he maintained a lifelong interest in the relationship between diabetes and diseases of the eye. He was considered to be the best refractionist in Baltimore.
Friedenwald made major contributions to the biochemistry of the aqueous humor, developed the Friedenwald ophthalmoscope, and improved standards in the field of tonometry. He also was involved in establishing the first medical school in Israel.
Friedenwald was awarded the Lucien Howe Medal by the American Medical Association in 1935, the Howe Medal of the University of Buffalo in 1948, and the Donders Medal from the Dutch Ophthalmological Society in 1952. In honor of his many contributions to the field of ophthalmology and to medical education at Johns Hopkins, the library at the Wilmer Ophthalmological Institute is named the Jonas Friedenwald Memorial Library.
"*" indicates required fields