George Gross Finney, Sr.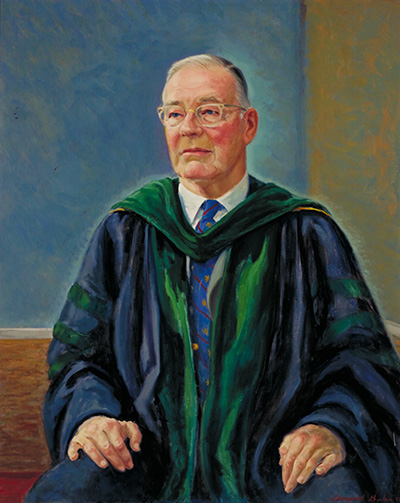 Make a Request
George Gross Finney Sr.
1899-1982
Finney, a surgeon at Johns Hopkins, was born in Baltimore. Following in the footsteps of his father, J.M.T. Finney, he attended Princeton University where he received his BA in 1921. He went on to the Johns Hopkins University School of Medicine to complete his medical degree in 1925. Finney interned for one year at Union Memorial Hospital and then returned to Johns Hopkins to complete his surgical training and to join the faculty of the medical school.
During World War II Finney left his position as associate in surgery to serve a tour of active duty with the Medical Corps of the U.S. Army. In the South Pacific he commanded the Hopkins medical unit, the 18th General Hospital. He was awarded the Legion of Merit and the Bronze Star for his service in World War II. Finney remained an active medical consultant to the armed forces for many years following the war.
A visiting surgeon at The Johns Hopkins Hospital and an associate professor at the medical school, Finney was most closely associated with Union Memorial Hospital, where he served as both chief of staff and chief of surgery in the 1950s. In addition, he was chief of surgery at Provident Hospital and Women's Hospital. Throughout his career, Finney concentrated mainly on the practice of general surgery.
Finney held the presidency of the Baltimore City Medical Society and of the Southern Surgical Association, and the chairmanship of the Board of Governors of the American College of Surgeons, which his father had co-founded. He furthered the advancement of science-based surgery by co-founding the Society of University Surgeons and the Baltimore Academy of Surgery. In 1971, the College of Surgeons presented Finney with its Distinguished Service Award.
Sound Recording. George G. Finney / interviewed by Terry Zheutlin and Lawrence Hammer. 1976.
Additional Portrait(s) of George Gross Finney Sr.
"*" indicates required fields