Milton Thomas Edgerton, Jr.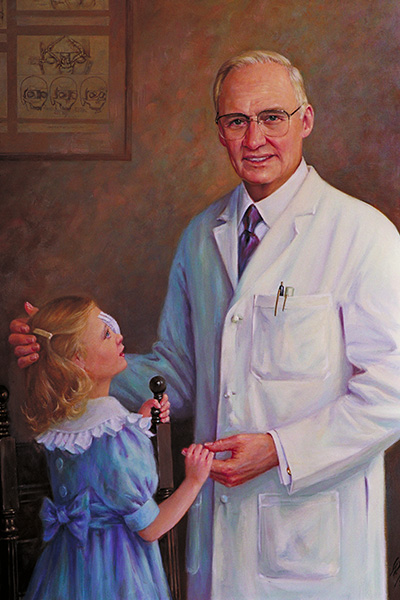 Make a Request
Milton Thomas Edgerton Jr.
1921-2018
Edgerton, a chief of plastic surgery at Johns Hopkins, was born in Atlanta. He received his A.B. in chemistry from Emory University in 1941 and his M.D. from Johns Hopkins in 1944. Following an internship in surgery at Barnes Hospital in St. Louis, Edgerton served as a captain in the U.S. Army's Medical Corps at Valley Forge General Hospital in Pennsylvania from 1945 to 1947. From there he returned to Johns Hopkins to complete a residency in surgery and became the institution's first plastic surgery resident.
While serving under Alfred Blalock, Edgerton established the Division of Plastic Surgery and also created the Johns Hopkins Plastic Surgery Training Program, which he directed until 1970. He was the first full-time chief of plastic surgery at Johns Hopkins from 1949 to 1970. He was named plastic surgeon-in-chief of The Johns Hopkins Hospital in 1952.
Edgerton lectured throughout the country on a variety of topics in plastic surgery. His research focused on work related to pediatric patients with craniofacial deformities. He was the first plastic surgeon to correct orbital hypertelorism, a condition in which a person's eyes are set too far apart, and he coauthored the first textbook on human ear construction. He also is recognized as a pioneer in exploring the psychological aspects of plastic surgery and its use in the emotional rehabilitation of patients with poor self-image. Edgerton performed sex reassignment surgeries at the Johns Hopkins' Gender Identity Clinic.
In 1970, Edgerton became chairman of the Division of Plastic Surgery and then chair of the Department of Plastic and Maxillofacial Surgery at the University of Virginia Medical Center, where he remained for the duration of his career. He published more than 500 peer-reviewed medical papers and four medical textbooks.
In 2011, Edgerton helped establish a professorship at Johns Hopkins in his name. In 2015, he received the Distinguished Fellowship Award from the American Association of Plastic Surgeons.
"*" indicates required fields