Nicholson Joseph Eastman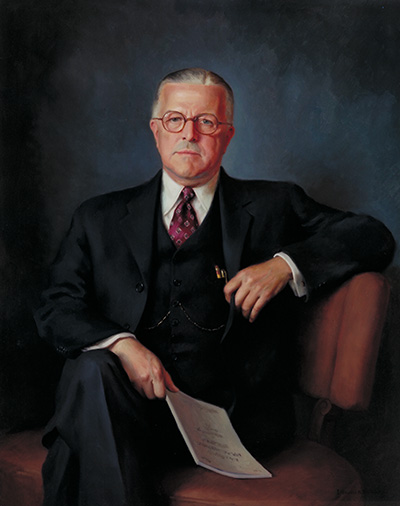 Make a Request
Nicholson Joseph Eastman
1895-1973
Eastman, an obstetrician and gynecologist at Johns Hopkins, was born in Crawfordsville, Indiana, to a family of physicians. After receiving his A.B. from Yale University in 1916, he spent a year writing short stories in New York City. He then returned to Indiana to study medicine, where he received his M.D. in 1921 from the Indiana University School of Medicine.
Eastman completed his internship and residency in obstetrics at Indianapolis City Hospital, then served as an associate in obstetrics and gynecology at Peiking Union Medical College (PUMC) in China. Modeled in large part after the Johns Hopkins University School of Medicine, the curriculum of PUMC incorporated theoretical studies with research and clinical training.
Eastman was appointed to the Johns Hopkins University School of Medicine as an associate in obstetrics in 1928. From 1933 to 1935, he returned to PUMC as a professor of obstetrics and gynecology. In 1935, he returned to Johns Hopkins as professor of obstetrics at the school of medicine and chief obstetrician of the hospital. Eastman's career at Johns Hopkins was distinguished by his research enterprise and publishing. He was an authority on the causes of cerebral palsy and did many basic studies on the physiology of pregnancy.
Eastman published extensively, and served as editor in chief for Obstetrics, Obstetrical and Gynecological Survey from 1946 to 1963. He authored the revision of Williams' Obstetrics, the standard textbook of its time; Expectant Mother, a handbook for pregnant women; and co-authored Nurses' Handbook of Obstetrics with Louise Zabriskie.
Eastman worked closely with the Maryland State Health system to establish obstetrical consultation clinics across the state. He was a leader in improving the accessibility of contraceptive care and, in 1942, became the national chairman of the medical council of the organization later known as Planned Parenthood.
He served as president of the American Association of Obstetricians and Gynecologists; of the American Gynecological Society; of the American Academy of Cerebral Palsy; and of the American College of Obstetricians and Gynecologists. Eastman also chaired the section of obstetrics-gynecology of the American Medical Association. For the World Health Organization he chaired the Committee on Maternal Care in 1951, and the Committee on Midwifery Training in 1955.
"*" indicates required fields