Daniel B. Drachman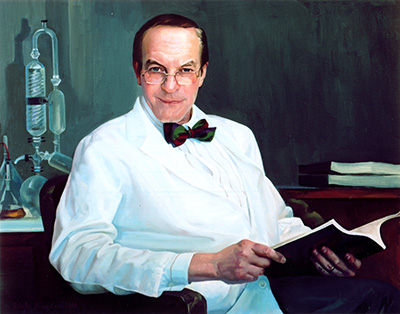 Make a Request
Daniel B. Drachman
1932-2022
Drachman, a professor of neuroimmunology and neurology at Johns Hopkins, was born in New York. He earned a bachelor's degree from Columbia College in 1952 and an M.D. from New York University School of Medicine in 1956. After an internship at Beth Israel Hospital in Boston and a residency in neurology and neuropathology at the Harvard Neurological Unit of Boston City Hospital, Drachman worked as a clinical associate and research associate at the National Institute of Neurological Disease from 1960 to 1963. He also served as a clinical instructor in neurology at Georgetown University.
In 1963, Drachman joined the faculty of Tufts University School of Medicine as an assistant professor of neurology. In 1969, he accepted an appointment at Johns Hopkins in the newly formed department of neurology as associate professor. He is founding director of the department's neuromuscular program. Drachman was promoted to professor in 1974, and in 1980 was also named professor of neuroscience.
A leading authority on myasthenia gravis and other neuromuscular diseases, Drachman first showed that myasthenia gravis is an autoimmune condition. Using botulism toxin many years before it was introduced for clinical use, he demonstrated that muscles wasted without motor neuron stimulation, a principle important in the pathogenesis of diseases such as amyotrophic lateral sclerosis (ALS) and Duchenne muscular dystrophy. Drachman's research interests lie in the origin of neuromuscular disorders and the treatment of ALS and autoimmune neuromuscular disorders. In 1987, he made headlines for a study indicating that the drug prednisone in patients with muscular dystrophy could delay the need for a wheelchair for two years. In 2012, he directed a study of a gene-based therapy that stopped the rodent equivalent of myasthenia gravis by targeting the disease's destructive immune response.
Drachman served on the medical advisory boards for the Myasthenia Gravis Foundation, the Multiple Sclerosis Society, and the Dysautonomia Foundation. He has been an editorial board member for several journals. He is the recipient of numerous honors including a Lifetime Achievement Award from the World Federation of Neurology. In 2000, Drachman was part of a review panel for Gulf War and Health for the National Academy of Science. Also in 2000, the Department of Neurology at Johns Hopkins dedicated its Kroc Neuroscience Symposium to Drachman in recognition of his 40 years working to unravel the mechanisms underlying myasthenia gravis. In 2014, he was elected to the Institute of Medicine.
Throughout his career, Drachman has worked to raise awareness of neuromuscular disease and the ongoing need to fund research. In 1990, he and his wife biked 4,000 miles across the country from Maryland to Seattle to call attention to the need for research on ALS.
"*" indicates required fields