Catherine D. DeAngelis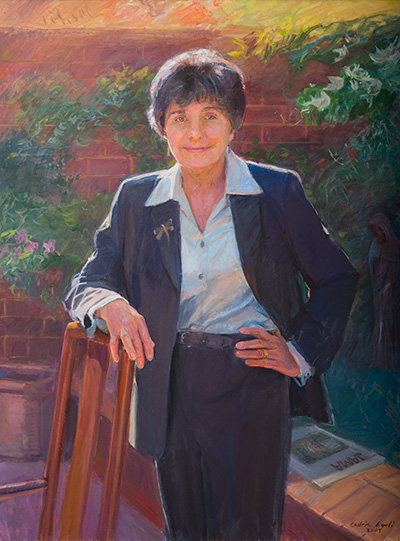 Make a Request
Catherine D. DeAngelis
1940-
DeAngelis was born in Scranton, Pennsylvania. She received her R.N. from Scranton State General Hospital School of Nursing in 1960, then earned a B.A. at Wilkes College in Wilkes-Barre, Pennsylvania in 1965. In 1969, she received her M.D. from the University of Pittsburgh School of Medicine. After an internship in pediatrics at Children's Hospital in Pittsburgh, DeAngelis completed a residency in pediatrics at Johns Hopkins. She then earned an M.P.H. from the Harvard Graduate School of Public Health.
DeAngelis spent a year working as a pediatrician in a comprehensive health clinic in Boston before joining the faculty of Columbia University in 1973 as an assistant professor of pediatrics at the College of Physicians and Surgeons, and as an assistant professor of health service administration at the School of Public Health. In 1975, she moved to the University of Wisconsin School of Medicine and Hospitals as an assistant professor of pediatrics and director of ambulatory pediatric services.
DeAngelis returned to Johns Hopkins in 1978 to become the founding director of the Division of General Pediatrics and Adolescent Medicine. She also served as a co-director of The Johns Hopkins Hospital's adolescent pregnancy program and as a director of residency training in pediatrics. From 1983 to 1990, DeAngelis served as deputy chairman of the Department of Pediatrics. In 1986, she attained the status of full professor, becoming the 12th woman at the School of Medicine to do so.
In 1994, DeAngelis was named vice dean for academic affairs and faculty, a position she held for nine years. In this role she launched several initiatives to improve women's presence in academic medicine including the Women's Leadership Council and the annual School's Report on the Status of Women, which later became the Committee on Faculty Development and Gender. Opportunities for women were nurtured and many women became full professors.
Backed by a multimillion-dollar grant from The Robert Wood Johnson Foundation, DeAngelis in 1992 restyled the medical school curriculum to include immediate contact with patients, as well as studies in empathy and compassion — traits she deemed just as critical for a physician as scientific knowledge.
In 1999, DeAngelis was appointed editor of the Journal of the American Medical Association, becoming the first woman and first pediatrician to hold the role. During her tenure, DeAngelis was an outspoken yet beloved figure, not shying away from some of the thorniest problems plaguing modern health care, including conflict of interest and ghostwriting, a practice where pharmaceutical companies secretly author articles published in medical journals under the bylines of academic researchers. DeAngelis' passion for integrity and transparency fueled her effort to force pharmaceutical companies to register publicly — and thereby disclose — all clinical trials, including those that found negative treatment effects. She also invited research that focused on women's health and demanded that researchers report treatment effects by gender.
After stepping down as editor of JAMA in 2010, DeAngelis returned to Johns Hopkins, where she began working to establish a program for Patient Care and Professionalism in Medicine and the Related Professions, including nursing, public health, religion, business, and law. In 2012, DeAngelis was named a Johns Hopkins University Distinguished Service Professor Emerita in recognition of her outstanding service to Johns Hopkins.
DeAngelis has been awarded multiple honorary doctorate degrees, and has received numerous awards for humanitarianism and medical excellence, including the Ronald McDonald Award of Medical Excellence, the Catcher in the Rye Award for Humanitarianism by the American Academy of Child and Adolescent Psychiatry, and a lifetime achievement award by the American Association of Medical Colleges. In 2015, she received the American Pediatric Society's Howland Medal, one of the highest awards in pediatric medicine.
The editor of Archives of Pediatrics & Adolescent Medicine from 1994 to 2000, she also has been a member of numerous journal editorial boards. DeAngelis has authored or edited twelve books on pediatrics, medical education and patient care, and professionalism. She has published over 250 peer-reviewed articles, chapters, and editorials.
DeAngelis is a member of the Institute of Medicine of the National Academies; a fellow of the American Association for the Advancement of Science; and a fellow of the Royal College of Physicians. Additionally, she has served as an officer of numerous national academic societies, including as past chairman of the American Board of Pediatrics, and chair of the Pediatric Accreditation Council for Residency Review Committee of the American Council on Graduate Medical Education.
She serves on the advisory board of the U.S. Government Accountability Office, is a member of the board of Physicians for Human Rights, and serves on the University of Pittsburgh's board of trustees.
"*" indicates required fields