John Crossan Cooper, Jr.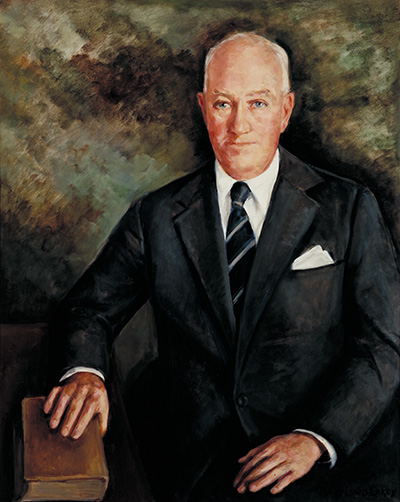 Make a Request
John Crossan Cooper Jr.
1901-1980
Cooper, a chairman of The Johns Hopkins Hospital Board of Trustees, was born in Baltimore. He received his A.B. from Princeton University in 1923 and his LLB from Yale University Law School in 1927.
Returning to Baltimore, Cooper practiced law at the firm of Venable, Baetjer & Howard, where he eventually became a partner. During his career, Cooper served as president of the Bar Association of Baltimore City and vice president of the Maryland State Bar Association, as well as trustee or director of multiple companies, including the Penn Mutual Life Insurance Co., Atlantic Coast Line Co., Mercantile-Safe Deposit and Trust Co., and Mt. Vernon Mills, Inc.
Cooper joined the Board of Trustees of The Johns Hopkins Hospital in 1942, and was elected chairman in 1964, a position that he held until his retirement in 1972. At the time of his retirement, the board presented Cooper with a distinguished service award in recognition of his strong leadership and devotion to The Johns Hopkins Hospital. He also served at various times as a trustee of The Johns Hopkins Hospital Fund, The Johns Hopkins University and was a member of the Joint Board of Trustees of The Johns Hopkins Hospital and The Johns Hopkins University.
"*" indicates required fields