Denton Arthur Cooley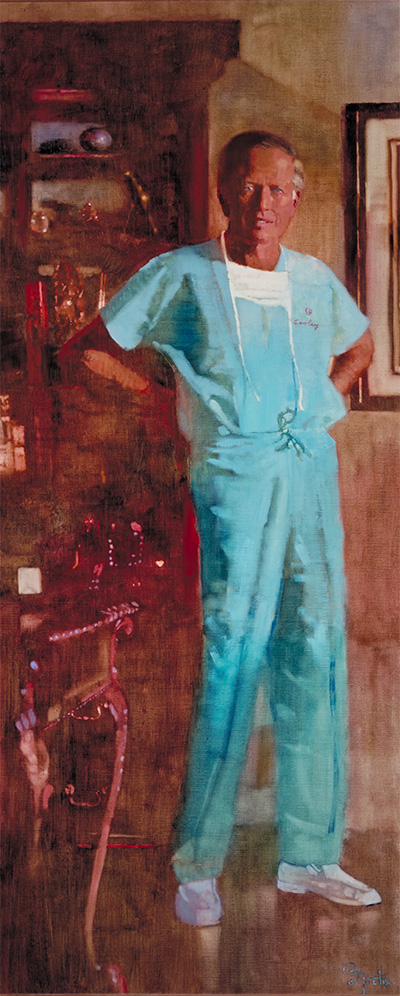 Make a Request
Denton Arthur Cooley
1920-2016
Cooley, a cardiac surgeon at Johns Hopkins who later performed the world's first implantation of an artificial heart, was born in Houston. He received his B.A. from the University of Texas in 1941. Cooley began his medical studies at the University of Texas at Galveston, but some turmoil in the dean's office two years later prompted him to transfer to Johns Hopkins, where he received his M.D. in 1944.
He started a surgical internship at Johns Hopkins and, just a few months later, assisted Alfred Blalock in performing the world's first "blue baby" operation. Cooley completed his internship and residency at Johns Hopkins, during which time he also held an appointment as instructor in surgery. In the middle of his residency, Cooley served in the U.S. Army Medical Corps as chief of the surgical service at the 124th Station Hospital in Linz, Austria. He went to London in 1950, where he had the distinction of being senior surgical registrar for thoracic surgery at the Brompton Hospital for Chest Diseases. While there, Cooley participated in the first cardiac operations in England.
In the 1950s, Cooley returned to Houston as associate professor of surgery at Baylor College of Medicine and The Methodist Hospital. He began working on developing a new method of removing aortic aneurysms with Michael DeBakey. In 1960, Cooley moved his practice to St. Luke's Episcopal Hospital while continuing to teach at Baylor. In 1962, he founded The Texas Heart Institute with private funds.
He became known for his surgical talents and performed numerous bloodless open-heart surgeries on Jehovah's Witness patients. In 1969, he performed the world's first successful artificial heart transplant on a human being. He pioneered the use of the coronary bypass and conducted thousands of open heart operations. He was also well known for operations that correct congenital heart anomalies in infants and children.
Cooley made a prodigious contribution to the medical literature, publishing both articles and textbooks. He was elected to honorary membership in dozens of professional societies and received numerous awards, including the René Leriche Prize, the highest honor of the International Surgical Society; distinguished alumnus awards from both The Johns Hopkins University and the University of Texas; and the Presidential Medal of Freedom.

"*" indicates required fields