Robert Edmund Cooke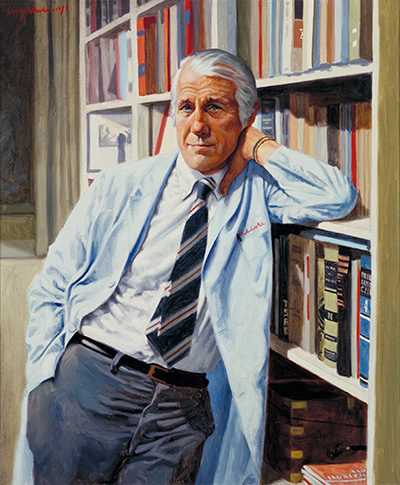 Make a Request
Robert Edmund Cooke
1920-2014
Cooke, a pediatrician-in-chief at Johns Hopkins, was born in Attleboro, Massachusetts. He earned his B.S. at Yale's Sheffield Scientific School in 1941 and his M.D. at the Yale School of Medicine in 1944. Cooke completed his internship and residency at New Haven Hospital but interrupted this period of training to serve two years in the U.S. Army Medical Corps.
In 1950, Cooke joined the faculty in pediatrics at the Yale School of Medicine. In 1956, he came to Johns Hopkins as professor and chair of the pediatrics department. At Johns Hopkins, Cooke designed and implemented novel programs that complemented the care in the Children's Medical and Surgical Center, including a program that brought better medical care to inner-city mothers and their children.
Cooke, a father of two daughters with a genetic disorder called cri-du-chat syndrome that is associated with intellectual disability, was an advocate for the disabled. He was a close adviser to Eunice Kennedy Shriver, founder of the Special Olympics programs, and personal pediatrician to her children. Cooke also led the task force that developed the national Head Start program to help children born in poverty overcome social and education obstacles.
He also directed the Kennedy Program for Research into the Etiology of Mental Retardation. This work covered a broad approach to the prenatal, neonatal, and postnatal causes of intellectual and developmental disabilities, including viral disorders, biochemical aberrations, and neonatal chemical injuries. Cooke played a major role in the development of the Kennedy Institute for Handicapped Children, a center for the habilitation of the handicapped, and served as its first director.
He left Johns Hopkins in 1973 to become vice chancellor for health sciences at the University of Wisconsin-Madison. In 1977, he became president of the Medical College of Pennsylvania and, later, the pediatrician-in-chief at Buffalo Children's Hospital. He retired in 1989.
"*" indicates required fields