David Barrett Clark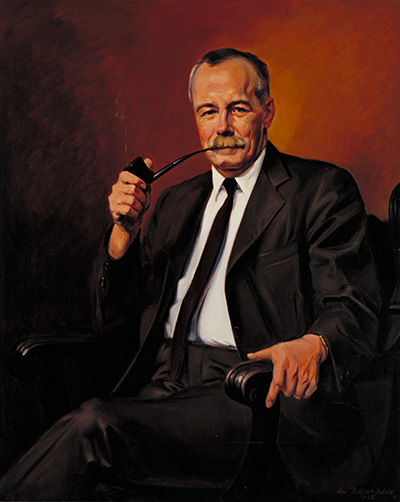 Make a Request
David Barrett Clark
1913-1992
Clark, a neurologist and director of the birth defects clinic at Johns Hopkins, was born in Glen Ellyn, Illinois. He attended Michigan State College from 1931 to 1934. Clark earned a Ph.D. from the University of Chicago in 1939, and an M.D. in 1946.
Clark was a resident, fellow, and instructor in neuroanatomy at the University of Chicago from 1935 to 1938. From 1938 to 1945, he was a research assistant in neurology. He also served as a neuropathologist at Children's Memorial Hospital in Chicago from 1942 to 1946.
In 1947, Clark moved to Baltimore, where he was an intern and resident in medicine at The Johns Hopkins Hospital until 1948. He became instructor in neurology in 1949, and between 1954 and 1964, rose from assistant professor to associate professor in neurological medicine. Clark became director of the birth defects clinic at Johns Hopkins in 1961. In 1965, Clark moved to Lexington, Kentucky, where he was appointed professor of neurology at the University of Kentucky and chairman of the department of neurology at the University of Kentucky Medical Center. He also served as chief of neurology at the Veterans Medical Center in Lexington, and was director of the Memory Disorders Clinic at the university.
Clark was a pioneer in the field of child neurology and was considered one of the outstanding teachers in medicine. He was early to recognize the importance of studying the effects of neurological disease on development, and worked to establish the clinical-pathological correlations between early neurological insults and the developing nervous system. Clark was instrumental in developing the specialty of child neurology at Johns Hopkins and in training many of the future leaders in the field.
Throughout his career, Clark received honors and special recognition for scholarly achievements and clinical contributions. At Johns Hopkins, Clark was named the first Frank Ford Lecturer and was selected to membership in the Society of Scholars. He was presented the Great Teacher Award at the University of Kentucky, and the Hower Award, the highest honor of the Child Neurology Society.
"*" indicates required fields