Benjamin Solomon Carson, Sr.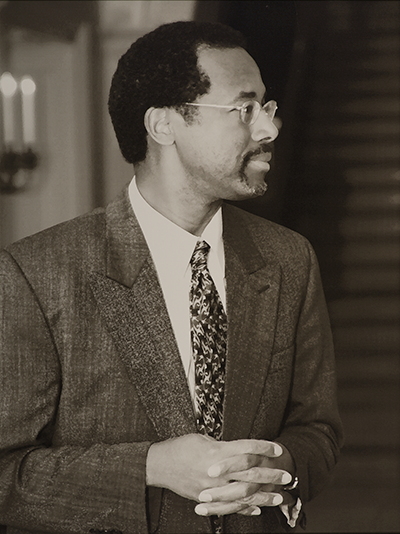 Make a Request
Benjamin Solomon Carson Sr.
1951-
Carson, a director of pediatric neurosurgery at Johns Hopkins, was born in Detroit. He earned his bachelor's degree from Yale University in 1973 and his medical degree from the University of Michigan in 1977. Carson completed his surgical internship and neurosurgical residency at Johns Hopkins, and spent one year as a senior registrar at Sir Charles Gairdner Hospital in Perth, Australia.
Carson joined the Johns Hopkins neurosurgery faculty in 1984 and was appointed director of pediatric neurosurgery. He became an authority in pediatric epilepsy, pediatric brain tumors and craniofacial reconstruction. Carson is known for refining the techniques for hemispherectomy, a radical brain surgery that removes half of the brain in an attempt to stop intractable seizures.
In 1987, Carson led a surgical team that separated West German conjoined twins. In 1997, he directed another team composed of American, South African, and Zambian neurosurgeons who successfully separated twins joined at the top of the head. He led an operation that separated adult Iranian twins joined at the head in 2003.
In 1994, he and his wife Candy started the Carson Scholars Fund, which provides $1,000 college scholarships to children in elementary school through high school who attain high academic and humanitarian achievement. The fund has provided more than 3,400 scholarships to students in twenty-six states. He also cofounded Angels of the OR, which provides grants to assist families with non-covered medical expenses involving both adult and pediatric neurosurgery.
Carson is the author of several books including Gifted Hands, an autobiography that chronicles his road from a broken home, dire poverty and poor self-esteem to his adult life; and THINK BIG, which presents his philosophy for success. Another book, The Big Picture, offers an up-close look at a professional surgeon's life.
Carson is the recipient of numerous honors and awards, including more than forty honorary doctorate degrees. He is a member of the Alpha Omega Alpha Honor Medical Society, the Horatio Alger Society of Distinguished Americans and other organizations. In 2004, President George W. Bush appointed him to serve on the President's Council on Bioethics. That same year, the Library of Congress selected him as one of its eighty-nine Living Legends. In 2006, the NAACP bestowed upon him its highest honor, the Spingarn Medal. Carson was awarded the Presidential Medal of Freedom from President Bush in 2008 and was elected to the Institute of Medicine in 2010.
In 2013, Carson retired from Johns Hopkins and was hired by The Washington Times as a weekly opinion columnist. Later that year, he joined Fox News as a contributor to provide analysis and commentary across the channel's daytime and primetime programming, a relationship which lasted to the end of 2014. He mounted an unsuccessful campaign in the 2016 Republican presidential primary. In 2017, Carson was appointed U.S. Secretary of Housing and Urban Development.
"*" indicates required fields