Mary King Carey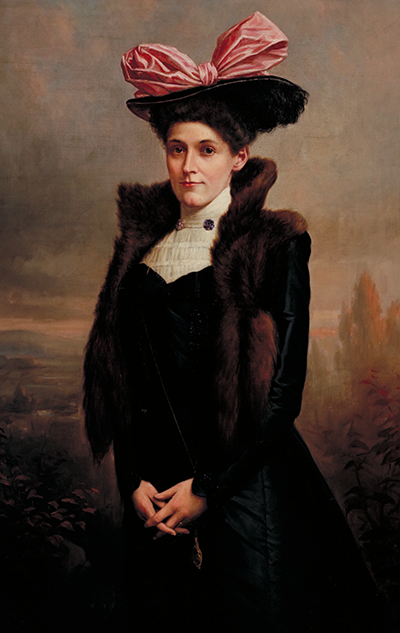 Make a Request
Mary King Carey
1846-1918
This painting appears to be a portrait of Mary King Carey; there are no records relating to its acquisition by The Johns Hopkins Hospital. Carey was the daughter of Francis T. King, the first president of the board of trustees of The Johns Hopkins Hospital. Her mother, Elizabeth Taber King, was a devout Quaker, active in civic and religious causes. The Memoir of Elizabeth T. King; with extracts from her letters and journals was published in multiple editions and widely circulated.
Elizabeth T. King died when her three daughters, Anna, Mary, and Elizabeth were very young. Their father depended on a close-knit circle of Quaker cousins to help in their upbringing and education. From an early age, their cousins exposed them to progressive thought on education and social responsibility. Mary was one of the founders of the Women's Industrial Exchange in Baltimore. Her sister Elizabeth, close to M. Carey Thomas and Mary Elizabeth Garrett, was part of their Friday Evening Group and the campaign to raise funds for the Johns Hopkins University School of Medicine.
In her will, Mary King Carey left $182,234 in unrestricted funds to The Johns Hopkins University and an additional $10,000 for stained glass windows to serve as a memorial to her father. Finally installed in Gilman Hall in 1930, the nineteen windows include illustrations of the "marks" or "devices" used by fifteenth and sixteenth century printers.
"*" indicates required fields