William John Hughes Butterfield, Lord Butterfield of Stechford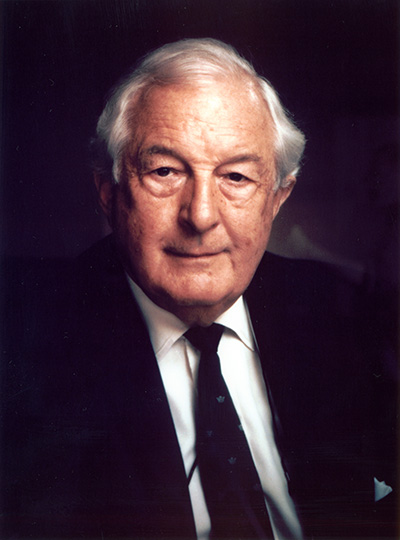 Make a Request
William John Hughes Butterfield, Lord Butterfield of Stechford
1920-2000
Butterfield, a diabetes researcher, was born in Birmingham, England. After completing preclinical studies at Exeter College, Oxford University during World War II, he won a scholarship to study at the Johns Hopkins University School of Medicine. During his voyage across the Atlantic to Baltimore, his ship was torpedoed and he was stranded on a raft for seven hours before being rescued.
Butterfield, one of several British students to attend the School of Medicine during the war under the auspices of the Rockefeller Foundation, matriculated with advanced standing as a mid-second year student at Johns Hopkins. He completed the degree requirements for an American M.D. in 1944, but because of restrictions by British authorities did not receive his degree until 1951.
British authorities had stipulated that exchange students sent to the United States not receive an American medical degree until returning to England and completing additional exams. Butterfield accepted a letter of qualification from the dean of Johns Hopkins curriculum in 1942, and later requested the conferral of an M.D. because he had received offers for research positions in America that required the degree.
Butterfield joined the scientific staff of the Medical Research Council in the United Kingdom, where he remained from 1946 until 1958. During his first three years there, he worked with the Royal Army Medical Corps researching burns and the effects of nuclear explosions. In 1958, he was appointed the first head of the new Department of Experimental Medicine at Guy's Hospital Medical School in London. His work focused on diabetes. Butterfield was a pioneer in the development of technology to measure blood sugar.
In 1971, Butterfield accepted the position of vice chancellor at Nottingham University. In 1976, he became the Regius Professor of Physic at Cambridge University, where he was instrumental in establishing the Clinical School. Butterfield also served as the Master of Downing College at Cambridge from 1978 until 1987, and as Vice Chancellor of Cambridge University from 1983 to 1985. In these positions, Butterfield was well liked and well respected for his charm and political acumen.
Butterfield was knighted in 1978 and made a life peer of the House of Lords in 1988, where he served on the science and technology committee, among others. He served on many education and medical committees in England and Hong Kong throughout his career.

"*" indicates required fields