Saul William Brusilow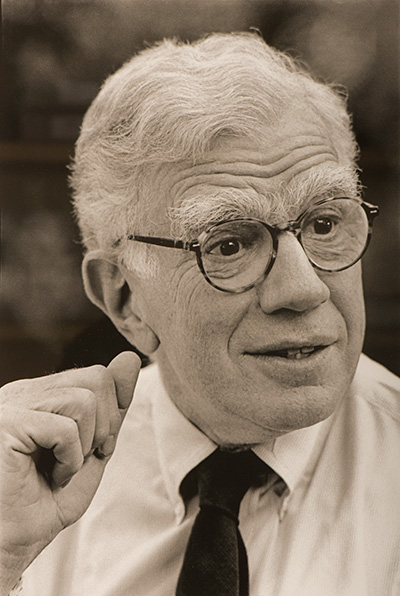 Make a Request
Saul William Brusilow
1927-2020
Saul Brusilow, a professor emeritus in pediatrics at Johns Hopkins and expert in urea cycle disorders, was born in Brooklyn, New York. He received his A. B. from Princeton University in 1946, and his M.D. from Yale University in 1954. After completing both an internship and one year of his residency training at Grace-New Haven Community Hospital, he followed his colleague Robert Cooke to Johns Hopkins and completed his residency and a fellowship at The Johns Hopkins Hospital in 1959.
During his tenure at Johns Hopkins, Brusilow rose from assistant resident to professor and served on the faculty for fifty-two years. He served as director of the Cystic Fibrosis Clinic, the Division of Pediatric Nephrology, and the Division of Metabolic Diseases.
In 1963, Brusilow, then an assistant professor of pediatrics, and pediatrician-in-chief Robert Cooke received a grant from the Maryland chapter of the National Cystic Fibrosis Research Foundation to establish a Cystic Fibrosis Research, Care and Teaching Center. In 1964, he developed a test which showed abnormally high salt content in the sweat of children with cystic fibrosis. The test allowed doctors to diagnose cycstic fibrosis in children who otherwise might have few disease symptoms.
In the mid-1970s, Brusilow turned his attention to inherited abnormalities of the urea cycle. At the time, the disorders were nearly always fatal. He created ways to diagnose and treat the disorders, including diagnostic algorithms and drugs to promote alternative pathways of waste nitrogen excretion. In 1979, he led a team that developed a groundbreaking therapy to correct a rare but often fatal inborn error of metabolism that prevents the liver from converting ammonia to urea for proper excretion.
The chemical therapies he developed and patented for inherited abnormalities of the urea cycle have saved the lives of thousands around the world, primarily children.
"*" indicates required fields