Edwin Nash Broyles, Sr.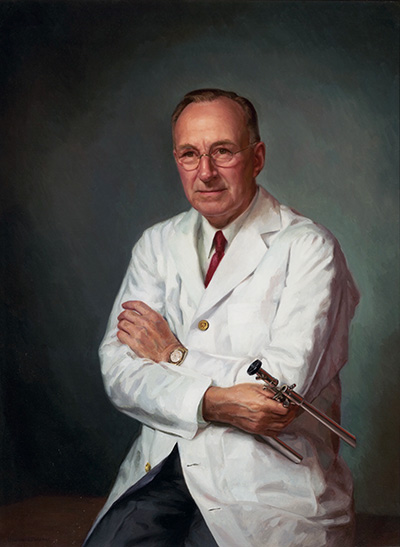 Make a Request
Edwin Nash Broyles Sr.
1894-1977
Broyles, a director of the endoscopy clinic at The Johns Hopkins Hospital, was born in Atlanta and graduated from the University of Georgia in 1915. He completed his medical studies at the Johns Hopkins University School of Medicine in 1919 and began a three-year residency in otolaryngology at The Johns Hopkins Hospital.
After traveling to Vienna to broaden his skills in endoscopy, Broyles opened a private practice and became director of the endoscopic clinic at The Johns Hopkins Hospital. From 1920 until 1961, he served on the faculty of the School of Medicine. He was appointed associate professor of laryngology and otology in 1941, and held that position for twenty years.
In addition to his teaching and clinical responsibilities, Broyles devoted his career to improving the diagnostic and surgical techniques of his field. He designed and constructed numerous instruments that enhanced examination of the lungs. Broyles developed a bronchoscope that allowed for the introduction of differently angled telescopes into the lungs. This device, which increased the illumination and magnification of tumors and foreign bodies, greatly improved the diagnosis and treatment of lung disease. Broyles also contributed significantly to management of cancers of the larynx.
Broyles served in the military during World War II, attaining rank of captain. He was awarded the Commendation Ribbon for meritorious service in the Pacific theater while serving on the U.S.S. Relief.
Widely recognized for his outstanding professional achievements, Broyles received numerous awards, including the Chevalier Jackson Award and the James E. Necomb Award. In 1960, the U.S. Navy awarded him a certificate of merit for his contributions to medicine. In 1961, Broyles was honored with emeritus status, and The Johns Hopkins Hospital named its endoscopic clinic in his honor in 1963. In 1971, Union Memorial Hospital named its ear, nose, and throat clinic and laboratory for him.

"*" indicates required fields