Lenox Dial Baker, Jr.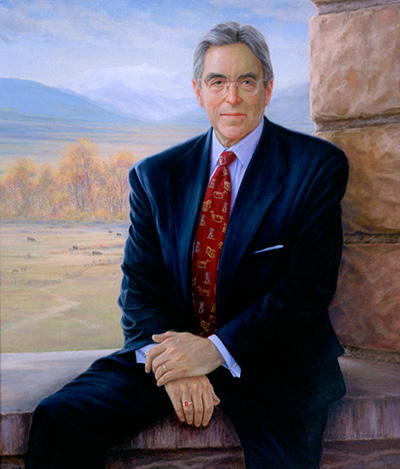 Make a Request
Lenox Dial Baker Jr.
1941-
Baker, a retired cardiothoracic surgeon and former chair of the board of trustees for Johns Hopkins Medicine, was born in Durham, North Carolina. Baker met his wife Frances Watt, after their first day of classes as college juniors at Johns Hopkins University in 1961. That year, they had transferred from other schools to Hopkins, where they enrolled in a five-year program that led to undergraduate and medical degrees. They earned their bachelor's degrees and were married in 1963, then received their medical degrees in 1966.
Baker comes from a family steeped in Hopkins tradition. His father, Lenox D. Baker, Sr., was chief resident in orthopedic surgery at Hopkins in the 1930s. Sarah Baker, the eldest of Lenox and Frances Baker's four daughters, earned her M.H.S. at the school of public health in 1995.
Lenox Baker was a senior partner and president of Mid-Atlantic Cardiothoracic Surgeons, Ltd., a ten-person cardiothoracic surgery group in Norfolk, Virginia. He served as chief of the Division of Cardiac and Thoracic Surgery at Sentara Hospitals, also in Norfolk. He was the founding director and chairman of International Medical Prosthetics and Research Associates from 1974 until it was sold to C. R. Bard in 1996.
Longtime supporters of Johns Hopkins, the Bakers in 1996 donated $10 million in stock and cash to establish the first endowed deanship at Johns Hopkins. From 2002 to 2005, Lenox Baker served as chair of the Johns Hopkins Medicine board of trustees, and as chair of The Johns Hopkins Hospital and Health System boards. He also served as vice chair of The Johns Hopkins University board, serving on its finance and executive committees. As co-chair of a Johns Hopkins initiative campaign, he was instrumental in helping raise $1.5 billion for the institutions.
Additional Portrait(s) of Lenox Dial Baker Jr.
"*" indicates required fields