Frederick Henry Baetjer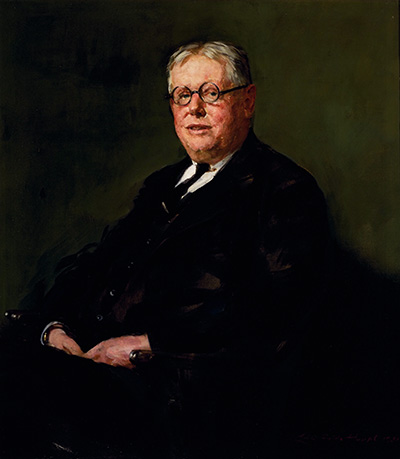 Make a Request
Frederick Henry Baetjer
1874-1933
Baetjer, a pioneer in the field of radiology and The Johns Hopkins Hospital's first radiographer, was born in Baltimore. He studied physics and mathematics, with an interest in engineering, at The Johns Hopkins University. During his final undergraduate year, Baetjer enrolled in the School of Medicine, where he received his M.D. in 1901. Immediately after, he began a one-year internship at The Johns Hopkins Hospital under the direction of William Halsted. In need of a full-time hospital radiographer, Halsted selected Baetjer to be the hospital's first assistant surgeon in charge of actinography, which was later called roentgenology.
Baetjer exercised considerable influence on the growth of radiology in the United States. His goals were twofold: to make roentgenology a branch of medicine and to establish exact methods of diagnosis by correlating X-ray and medical findings. During his career, Baetjer assisted neurosurgeon Walter Dandy in the development of cerebral pneumography, an early method of imaging the brain. Baetjer also is credited with introducing large numbers of physicians to the diagnostic applications of radiography when, during World War I, he directed the U.S. Army Medical Corps training facility located at The Johns Hopkins Hospital.
Baetjer became interested in radiography at a time when gas tubes were used to generate X-rays. Early practitioners of radiology gauged each tube's readiness by holding a hand in front of the input area and observing the sharpness of the resulting image on a fluoroscopic screen. As a result of his exposure to radiation, Baetjer lost nearly all of his fingers and an eye by 1920.
In 1936, the German Roentgen Ray Society named Baetjer among 165 "heroes of science who sacrificed their lives in medical research." His name was chiseled on a sandstone memorial in front of the Roentgen Institute of St. George's Hospital in Hamburg, Germany.
"*" indicates required fields