William Stevenson Baer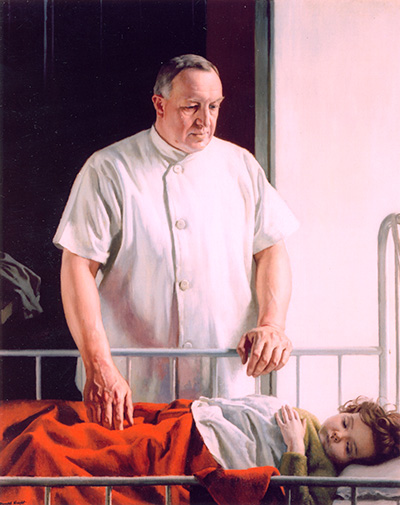 Make a Request
William Stevenson Baer
1872-1931
Baer, the founding director of orthopaedics at Johns Hopkins, was born in Baltimore. In 1894, he earned an A.B. from The Johns Hopkins University, and in 1898, an M.D. from the Johns Hopkins University School of Medicine. Baer served his internship at The Johns Hopkins Hospital under the supervision of Harvey Cushing. In 1900, after completion of his internship, Cushing recommended to William Halsted that Baer be assigned to develop an orthopaedic service at Hopkins. Baer went to Boston for three months to observe orthopaedic programs at Boston Children's Hospital and Massachusetts General Hospital. He returned to Hopkins and began setting up and directing its orthopaedic program.
In 1900, Baer also established a private orthopaedic practice with radiologist Frederick Baetjer. He held operating privileges at various hospitals in Baltimore including the Union Protestant Infirmary, Church Home and Infirmary, Women's Hospital, the Robert Garrett Hospital for Children and the Children's Hospital. Baer, especially devoted to the care of his pediatric patients, encouraged and entertained them during their rehabilitation.
During World War I, Baer first served with the Johns Hopkins Base Hospital 18 and later as the orthopaedic consultant to General Pershing. While treating injured soldiers in France, Baer noted that wounds infested by maggots on the battlefield healed most rapidly. Recognizing the importance of maggots in the debridement of wounds, he became a longtime proponent of their use in his surgical practice.
During the three decades of his leadership of the department of orthopaedics he is credited with the training of surgeons who rose to great prominence. Active in national and international professional organizations, he served as president of the American Orthopaedic Association. Locally he was engaged in various efforts to extend health services in Baltimore and Maryland counties. He collaborated with public health officials to set up state-funded clinics where he would see patients on a gratis basis.
His research focused mainly on spinal problems and hip arthroplasty. In 1927, he was promoted to clinical professor of orthopaedics. A school for children with polio or tuberculosis was named in his honor in 1939.
"*" indicates required fields