Anne Armstrong and C. Michael Armstrong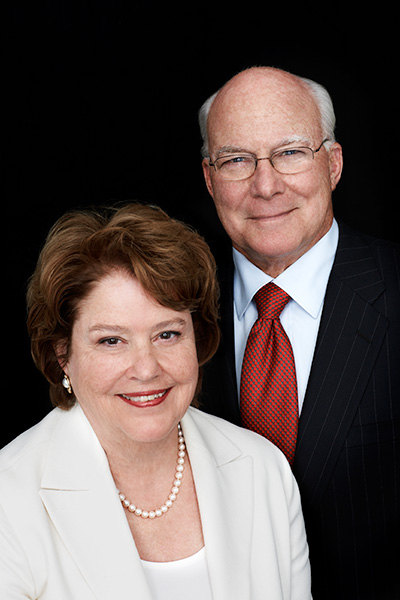 Make a Request
C. Michael Armstrong
1938-
C. Michael Armstrong, a retired business executive, former board chairman for Johns Hopkins Medicine, and benefactor to Johns Hopkins Medicine, was born in Detroit and grew up down the street from his future wife, S. Anne Gossett. Both graduated from Miami University in 1961. Armstrong's bachelor's degree was earned in business and economics. Anne and Michael were married in June, 1961. He later completed the advanced management curriculum at Dartmouth Institute in 1976.
Armstrong joined IBM Corp. in 1961 and during his thirty-one years there rose from a systems engineer to senior vice president and led international operations as chairman of the board of IBM World Trade Corporation. Then, in 1992, he became chairman and CEO of Hughes Electronics Corporation, a public company majority owned by General Motors Corporation, where he expedited development of DirecTV and implementation of the nation's first satellite digital broadband television system. He left Hughes in 1997 to take the position of chairman and CEO of AT&T and later served as chairman of the board of Comcast Corporation, retiring in 2004.
Armstrong's affiliation with Johns Hopkins began when IBM assigned each of its senior executives to "adopt" a hospital. He served as chairman of the board of trustees for Johns Hopkins Medicine, Johns Hopkins Health System Corporation, and The Johns Hopkins Hospital from July, 2005 to June, 2011 and again from July, 2012 to June, 2013. He was also vice chairman of the Johns Hopkins University Board of Trustees and was involved in the School of Medicine's implementation of its Genes to Society curriculum.
A generous benefactor to Johns Hopkins, in 2002, he endowed the C. Michael Armstrong Professorship in Medicine to support Johns Hopkins' leadership role in stem cell research, followed in 2004 by a four million dollar bequest to support research in that field.
In 2005, Armstrong pledged twenty million dollars toward construction of a new medical education building on the School of Medicine's East Baltimore campus. The four-story Anne and Mike Armstrong Medical Education Building, dedicated in 2009, houses state-of-the-art medical educational facilities, including an anatomy lab. Long-time champions of patient safety and quality care, the Armstrongs in 2011 gave ten million dollars for the creation of the Armstrong Institute for Patient Safety and Quality, whose goal is eliminating preventable harm to patients throughout Johns Hopkins Medicine, and serving as a model for other institutions.
Armstrong has served as chair of the President's Export Council under President Bill Clinton, the U.S.-Japan Business Council, and the Federal Communications Commission's Network Reliability and Interoperability Council. Additionally, he served as chair of the Homeland Security Task Force, the National Security Telecommunications Advisory Committee, and the Defense Policy Advisory Committee. He was a visiting professor at the Massachusetts Institute of Technology for ten years and has been awarded six honorary doctorate degrees. Anne serves as president of the C. Michael Armstrong Family Foundation.
Additional Portrait(s) of C. Michael Armstrong
"*" indicates required fields