Anna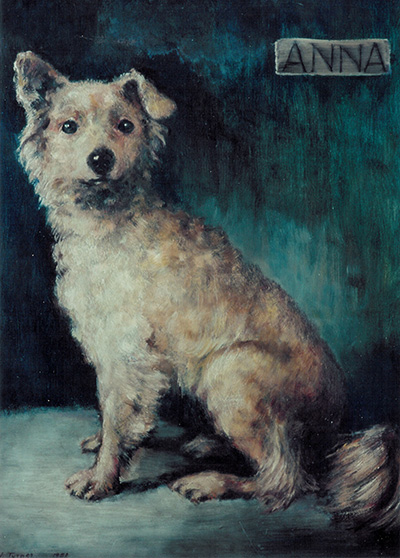 Make a Request
Anna
circa 1943-1957
Anna served as a research subject at Johns Hopkins for Vivien Thomas and Alfred Blalock when they were perfecting a surgical procedure for correction of Tetralogy of Fallot. Whereas pediatric cardiologist Helen Taussig had conceived a method for the surgical correction, the experimentation on Anna by Thomas and Blalock led to the successful perfection of the procedure. Anna was the first survivor of the pioneering procedure which was later named the Blalock-Taussig procedure or the Blue Baby Operation. After their success with Anna, Alfred Blalock and his assistant Vivien Thomas had the assurance to undertake the first open heart surgery on infant Eileen Saxon in 1944.
Anna then retired to the Surgical Research Laboratories where she was the well-loved pet of the staff and charmed everyone who came to visit. She was photographed several times by leading magazines and newspapers with former "blue babies" who came to see her on their return visits to Blalock and Taussig.
In 1950 Anna's story was made into a movie, which has been shown to various schools and other groups. It is now the property of the Maryland Society for Medical Research.
This portrait of Anna was painted in 1951 and presented to The Johns Hopkins Hospital by the Baltimore Animal Aid Association. At that time a special medal was presented to Anna. She spent her last years as the mascot of the Surgical Research Laboratory.
"*" indicates required fields