Martin D. Abeloff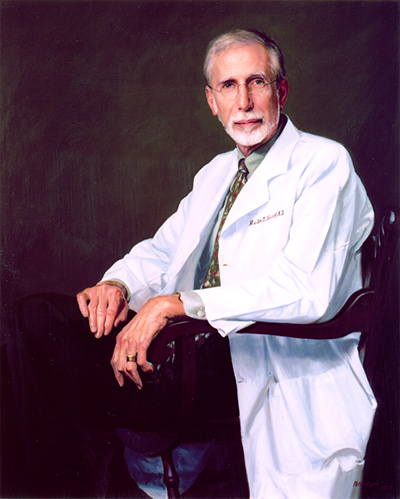 Make a Request
Martin D. Abeloff
1942-2007
Abeloff, an international authority on breast cancer and longtime director of the Johns Hopkins Sidney Kimmel Comprehensive Cancer Center, was born in Shenandoah, Pennsylvania. He received a B.A. from The Johns Hopkins University in 1963 and his M.D. from the Johns Hopkins University School of Medicine in 1966.
Abeloff interned at the University of Chicago Hospitals and Clinics, then completed his residency in medicine at the Beth Israel Hospital in Boston. After a fellowship in clinical hematology at the New England Medical Center, Abeloff returned to the Johns Hopkins University School of Medicine as a clinical oncology fellow. He became an instructor in medicine in 1972 and steadily rose through the academic ranks in the Department of Oncology, becoming a full professor in 1986.
In 1976, Abeloff was appointed director of the Johns Hopkins Oncology Center Outpatient Clinic. He was made director of the Johns Hopkins Oncology Center in 1992. Abeloff was instrumental in the fundraising and completion of The Sidney Kimmel Comprehensive Cancer Center, which was dedicated in 2002. During his 15-year tenure as director of the center, Abeloff doubled the size of its faculty, increased research funding, and saw the center consistently ranked among the nation's top three cancer centers in U.S. News & World Report surveys. Under his leadership, the cancer complex expanded to include nearly one million square feet of treatment and research space. Inside the Harry and Jeanette Weinberg Building, Abeloff established the Art of Healing program that included a performing arts series and a collection of more than 100 works of museum-quality art for the enjoyment of patients, visitors, and staff.
As a clinician and clinical researcher, Abeloff focused on lung and breast cancers. He was a proponent of cancer prevention, with particular emphasis on breast cancer detection strategies such as mammography and screening for risk factors. Abeloff served as chairman of the Food and Drug Administration's Oncology Drug Advisory Committee, chairman of the Board of Scientific Counselors to the National Cancer Institute's division of clinical sciences, and also served as president of the American Society of Clinical Oncology. He authored or edited over 150 publications including the textbook, Clinical Oncology.
"*" indicates required fields